Services
WE ARE HERE TO HELP!!!
We have more than 20 years of experiencing in flooring and stairs field and we are happy to discuss any residential, commercial or industrial project in detail. When it comes to taking old stairs and making them new again, we're the experts in the GTA. We also specialize in hardwood flooring instalation, nosing to protect edges from damage, railing installation and way more.
Nosing Installation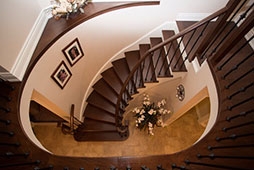 Nosing makes a big impact on the look of your floor and railings. Get it done right the first time.
Railings
We specialize in both wood and wrought iron railings. Contact us for a free quote.
Stair Renovation
Quality stair renovation at reasonable prices. We help you increase the value of your home.
Wood & Metal Railings
Railings are our specialty. We work with both wood and steel spinals. Call Us Today!
Hardwood Flooring
Quality hardwood flooring installation that is both affordable and beautiful.
Sanding & Staining
Bring back the beauty in your hardwood stairs with professional sanding & staining..